A 65 year old female presents with shortness of breath after a return flight from the Gold Coast of Australia to the United States.
Vitals: HR 107 BP 110/80 RR 22 O2 95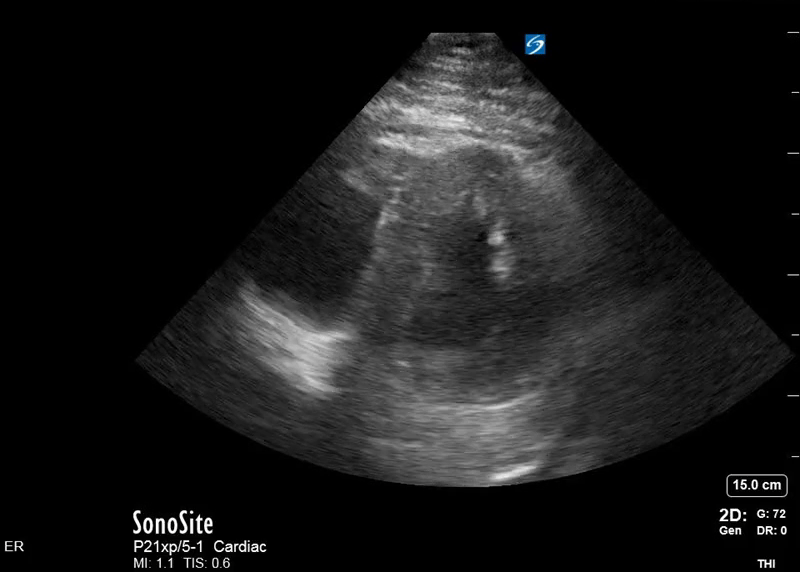 Answer and Learning Point
Answer
There is right ventricular dysfunction demonstrated as septal bowing appreciated on this parasternal short axis view. This is concerning for a pulmonary embolism in the setting of the provided clinical context.
Learning Point
Echocardiography can be a useful adjunct to laboratory markers (i.e. BNP and troponin) and CTA for evaluation of right heart strain in normotensive patients presenting with concern for pulmonary embolism.  While there is building evidence that many patients presenting with pulmonary embolism are safe for discharge [1] , those patients that have evidence of right ventricular dysfunction are at higher risk for morbidity and mortality and may also be candidates for more advanced therapies, other than simple anticoagulation, such as catheter directed thrombolysis.  The most up-to-date evidence supports that emergency physicians can accurately perform echocardiography at the bedside to risk stratify patients presenting with concern for pulmonary embolism. In a recent study by Weekes et al, emergency physicians (EP) performed goal directed echocardiography to assess for right ventricular dysfunction. If any of the following criteria below were present, a patient was considered positive by goal directed echocardiography for right ventricular dysfunction: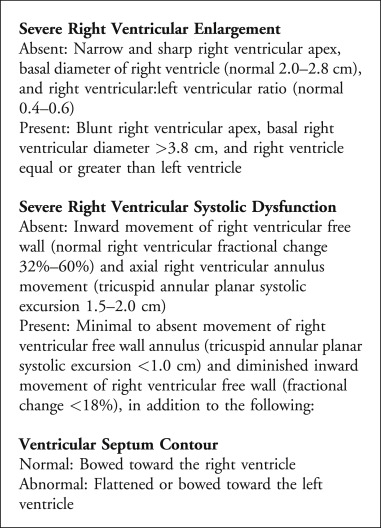 This study found the EP goal-directed echocardiography sensitivity and specificity for right ventricular dysfunction to be 100% (CI 87% to 100%) and 99% (95% CI 94% to 100%), respectively [2]. Our patient ended up having a saddle embolus and underwent catheter directed thrombolysis and did well.
References
Aujesky D, e. (2017). Outpatient versus inpatient treatment for patients with acute pulmonary embolism: an international, open-label, randomised, non-inferiority trial. - PubMed - NCBI . Ncbi.nlm.nih.gov. Retrieved 8 July 2017, from https://www.ncbi.nlm.nih.gov/pubmed/21703676

Weekes AJ, e. (2017). Diagnostic Accuracy of Right Ventricular Dysfunction Markers in Normotensive Emergency Department Patients With Acute Pulmonary Embolism. - PubMed - NCBI . Ncbi.nlm.nih.gov. Retrieved 8 July 2017, from https://www.ncbi.nlm.nih.gov/pubmed/?term=26973178