A 73-year-old male with a past medical history including atrial fibrillation and hypertension presented to the ED for admission for planned resection of a parotid mass with ENT. He first noted pain to his right cheek several months prior. Over this period, a mass was noted. The mass continued to grow over time, raising concern for malignancy, and the decision was made to pursue resection of the mass. On presentation, he endorsed significant pain to the right parotid area, but denied any fever, chills, chest pain, SOB, nausea, vomiting, abdominal pain, or dysuria. On physical exam, gross observation revealed diffuse swelling of the patient's right cheek just anterior to the right tragus with marked tenderness to palpation. The remainder of his exam was unremarkable.
Vitals:
BP 160/81 | Pulse 75 | Temp 97.4 °F (36.3 °C) | Resp 20 | Ht 5' 11" (1.803 m) | Wt 87.7 kg (193 lb 5.5 oz) | SpO2 98% | BMI 26.97 kg/m²
Point of care ultrasound was performed to visualize the mass (right side) and compare it to the contralateral, non-diseased glandular tissue (left side). The following scans were obtained: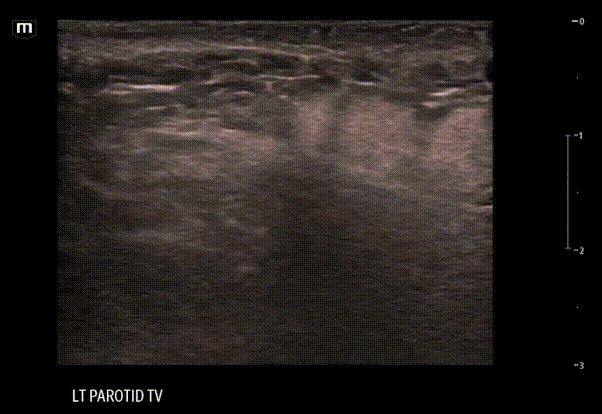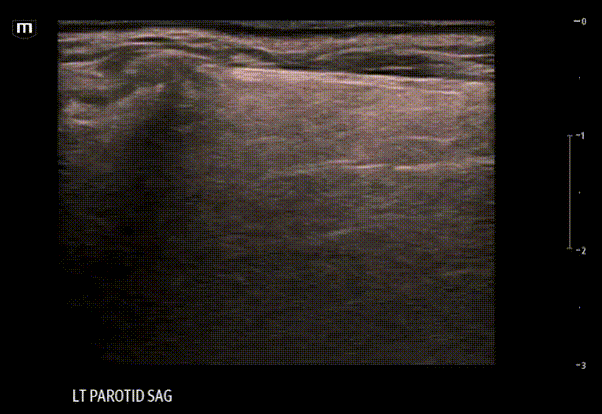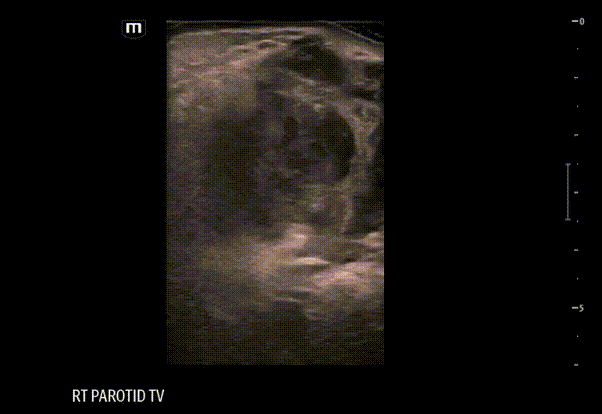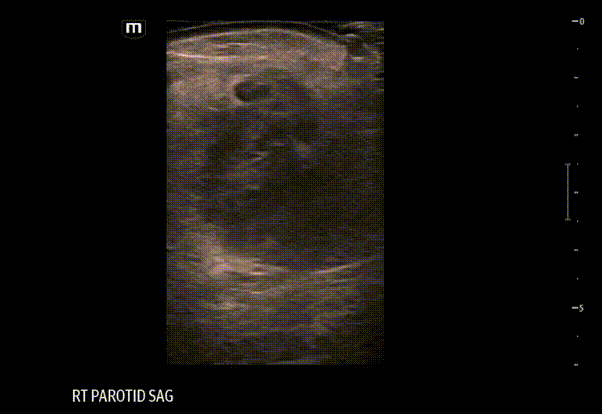 The parotid gland can often be elusive on account of its relatively unremarkable echogenicity. However, using anatomical landmarks, finding the gland and its surrounding structures can be quick and easy. The technique used for obtaining our bedside images for this case is summarized below: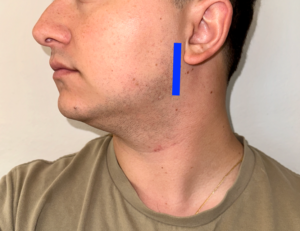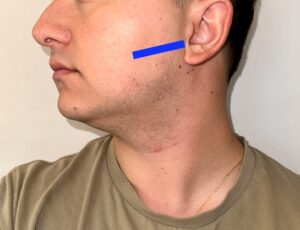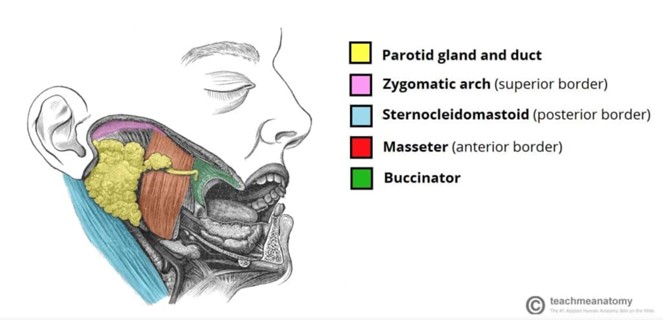 The superficial location of the parotid necessitates a high-resolution linear probe for optimal scan resolution. We found that the base of the tragus was an easy and reliable landmark to use as a starting waypoint for obtaining either the transverse or sagittal plane views. This positioning allows for identification of the parotid gland as it wraps around the angle of the mandible. The transverse plane is particularly useful for visualization of the accessory parotid gland, which is known to be the landmark for the parotid (Stenson's) duct.2,3 In fact, ultrasound has been shown to successfully diagnose parotid duct obstruction.4 The sagittal plane can be useful when searching for an optimal cross-section of Stenson's duct, especially when it is dilated (e.g. in the case of an obstructing stone). Should the duct prove difficult to locate, the course and angle of Stenson's duct may be approximated by drawing an imaginary line from the base of the tragus to the upper lip.5 Though we were unable to obtain optimal imaging of Stenson's duct with this patient, we were able successfully locate the accessory parotid gland using the technique described above.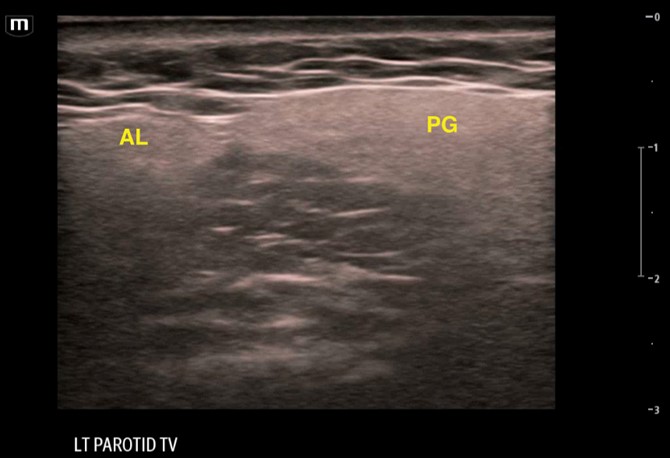 Overall, this case was an excellent exercise in using anatomical landmarks for localization of the parotid gland, review of notable anatomy, and comparison with diseased tissue. This patient underwent successful right superficial parotidectomy in the following days and was discharged on post-op day 1. The pathology report was concerning for high grade carcinoma with localized spread but clean margins. No lymph node involvement.
References
1. The parotid gland. TeachMeAnatomy. (n.d.). https://teachmeanatomy.info/head/organs/salivary-glands/parotid/
2. Parotid gland- normal. ULTRASOUNDPAEDIA. (n.d.) https://ultrasoundpaedia.com/parotid-gland-normal/
3. Human Anatomy Lessons. (2022, August 5). Parotid gland. Learn Human Anatomy. https://humananatomyonline.in/2022/08/05/parotid-gland/
4. Goncalves, M., Mantsopoulos, K., Schapher, M., Iro, H., & Koch, M. (2021). Ultrasound in the diagnosis of parotid duct obstruction not caused by sialolithiasis: diagnostic value in reference to direct visualization with sialendoscopy. Dentomaxillofacial Radiology, 50(3), 20200261.
5. Jones J, Howden W, Yu Y, et al. Parotid gland. Reference article, Radiopaedia.org (Accessed on 21 Sep 2023) https://doi.org/10.53347/rID-10448
This post was written by Henry Horita, Lainey Yu, MD, Ben Supat, MD, MPH, and Sukh Singh, MD. Posted by Ben Supat, MD, MPH.