A 72 year old male with known abdominal aortic aneurysm (5.7 cm s/p fem-tib bypass, L AKA) presents for 3 weeks with diarrhea and mild LLQ pain. No nausea, vomiting, fever, back pain, urinary symptoms, or blood in stool. He has no localizing abdominal exam & no peritoneal signs, strong even radial pulses, and normal cardiopulmonary exam. On further chart review, patient is noted to have a 5+ cm aorta for the past 2 years, with the most recent CT scan a few weeks ago showing growth from 5.5 cm to 5.7 cm. An abdominal ultrasound is performed with the following findings.
Vitals:
T 98.7 HR 64 BP 167/80 RR 18 O2 100%
What are we concerned about for this patient and why? What is the interpretation of the abdominal ultrasound? What are the next steps for management in the ED?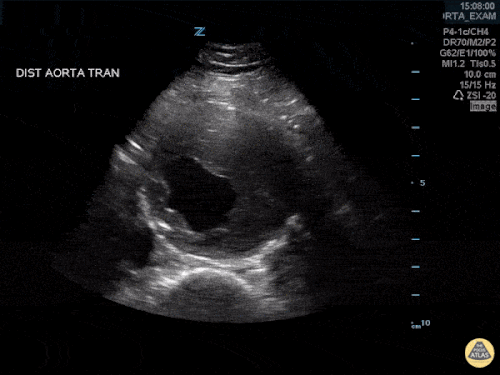 Answer and Learning Points
Answer:
The patient's presenting complaints (diarrhea, mild abdominal pain) do not coincide with the classic triad of ruptured AAA (hypotension, back pain, pulsatile abdominal mass). In addition, this patient is hemodynamically stable and comfortable, which is reassuring. However, ruptured AAA can have a wide variety of presentations and should always be considered in patients with known large AAA. In addition, this patient had a known AAA >5 cm for the past two years with poor vascular surgery follow-up, and the risk for rupture for AAA's 5.0-5.9cm increases by 5-10% each year. (1)
As this patient recently had a CT scan a few weeks ago revealing large, stable AAA, the decision was made to investigate via ultrasound rather than undergo more radiation from CT. Ultrasound is also highly sensitive and specific for detecting AAA. (2) The above images show the AAA has a large intramural thrombus with no evidence of leaking fluid nor dissection flap. The AAA is stable, measuring a similar width of 5.7 cm. The clinician can investigate further by doing a RUSH exam to reassure against intraperitoneal bleeding and other types of shock. Elective aortic surgery is recommended for patients with AAA >5.5 cm, because at this threshold the risk of rupture is greater than risk of surgery, therefore it is reasonable to consult vascular surgery for this patient in the ED. (1)
Learning Points
Ruptured AAA being a surgical emergency and nearly uniformly fatal. Risk of rupture is proportional to size of AAA:
Elective aortic surgery is the most effective management, however, is not recommended until the aneurysm exceeds 5.5 cm diameter. In the ED setting, it is reasonable to consult vascular surgery for an asymptomatic patient with an incidental finding of aneurysm >5.5 cm. (1)

A systematic review of seven studies (n=655) evaluated operating characteristics of emergency department ultrasonography for AAA. With AAA defined as >3cm dilation of aorta, the review showed that ultrasound yielded excellent diagnostic performance. (2)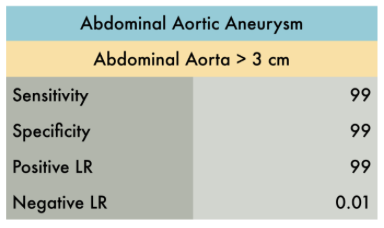 An effective abdominal aortic ultrasound requires:
(1) Evaluation of the entire aorta from the subxiphoid area to the iliac branch bifurcation. Most abdominal aortic aneurysms lie in the infrarenal aorta.
(2) Moving bowel gas out of the way with the probe with either graded compression or curvilinear probe with larger footprint
(3) Careful differentiation aorta from IVC. The aorta will be anterior to the vertebrae and the left of the IVC.
(4) Measuring outer to outer wall. Clot can create can second inner wall and falsely decrease aortic width measurement.
This post was written by Caresse Vuong, MS4, Charles Murchison, MD and Amir Aminlari MD