During the COVID-19 pandemic, a 67 year old woman is brought to the ER by family for respiratory distress and altered mental status. She was alert but not oriented and unable to answer questions on arrival with moderate respiratory distress. Family stated that she had a history of asthma and takes "other" medications, but where otherwise unaware of her past medical history. She had been using her inhaler without relief and has not had any sick contacts, cough or fever.
Vitals: T: 98.7, HR: 112, BP: 190/110, RR: 40, SpO2 80 on RA
She was in moderate respiratory distress, crackles on exam, no pitting edema. She was placed on a non-breather (avoiding NIPPV) and a thoracic plus cardiac ECHO was preformed.
After reviewing the images, what would you do next?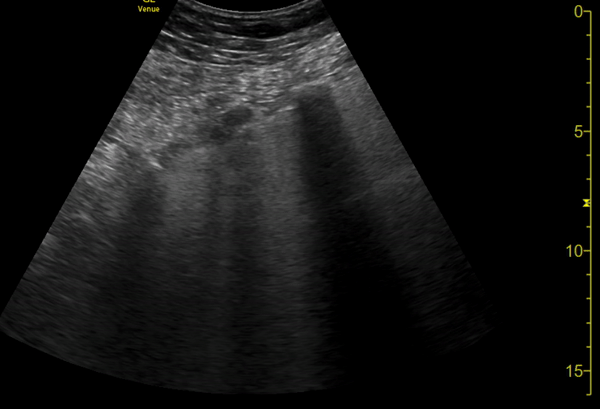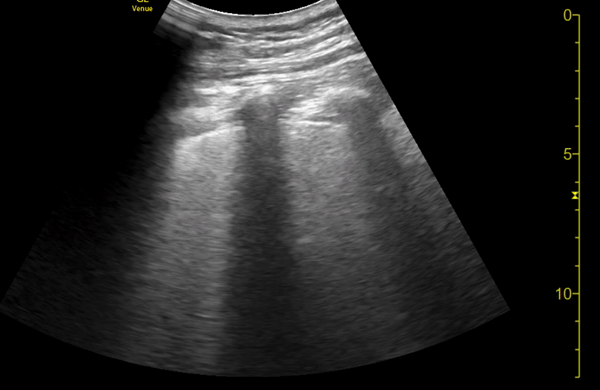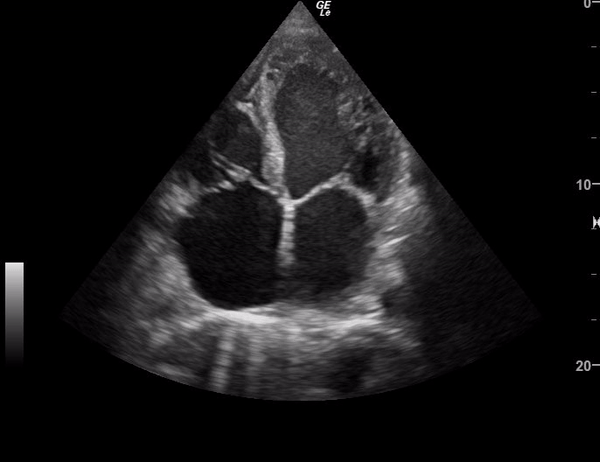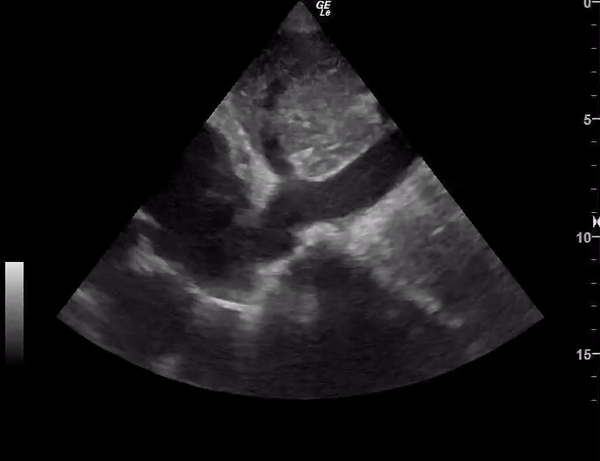 Answer and Learning Points
Answer
The images would suggest that this patient is most likely suffering from heart failure with an acute exacerbation. There are diffuse B-lines, obvious decrease contractility and a dilated IVC. These images are not typical of COVID-19 infections, which have pleural thickening and scattered b-lines (see COVID section).  This patient was put on a nitro drip and given diuretics, with a significant improvement in her respiratory status in the ER. She ultimately tested COVID negative and was discharged from the hospital after aggressive diuresis. 
During the same shift, numerous COVID-19 positive patients were seen. Below are images of COVID-19 cases for comparison and more can be found at The POCUS Atlas. 
While the sensitivity and specificity of ultrasound to diagnosis COVID-19 has yet to be determined, this case illustrates how alternative findings can still impact clinical care and potentially avoid intubation. 
COVID +
On the same shift, numerous COVID-19 patients were also seen, with variable pre-test probability. ECHO for these patients would not reveal an alternative diagnosis (such as our CHF case). There were however some classic findings on ultrasound. Note below two patients with thoracic scans. There are scattered B-lines (unlike our CHF patient, who had diffuse B-lines). There is also pleural thickening and at times an irregular pleural border.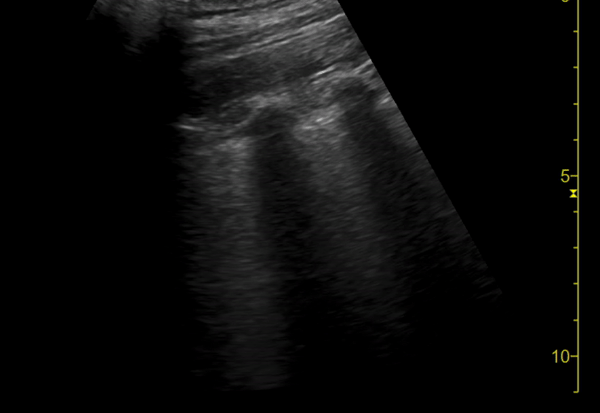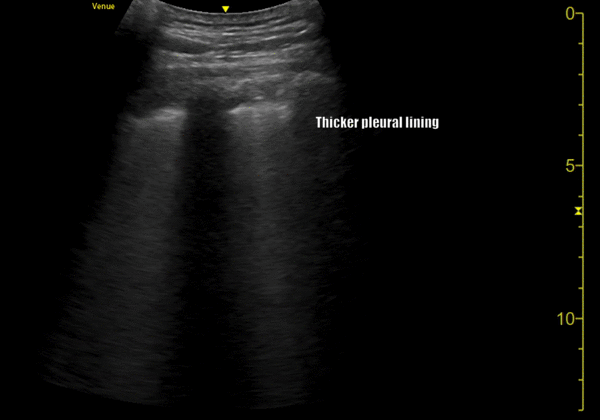 Author
Sukhdeep Singh, MD. Clinical Faculty, UCSD Department of Emergency Medicine. Director of POCUS, El Centro Regional Medical Center.
References
DeRose et al, How to Perform Pediatric Lung Ultrasound Examinations in the Time of COVID‐19. Journal of Ultrasound in Medicine. 22 April 2020.
The POCUS Atlas. http://www.thepocusatlas.com/covid19