A 40 year old male presents to the emergency department with pain to the entire right thumb and wrist for 1 day.  He notes that he suffered a small puncture wound to his right thumb 1 day ago while working on his car.  The patient has notable circumferential, non-erythematous swelling to his right thumb with tenderness along the flexor tendon. There is also fullness of the dorsum of his wrist. He is holding his fingers flexed and has pain radiating into the wrist with any movement of his fingers or wrist, especially with extension of his fingers.
Vitals: T 98.7 HR 90 BP 132/81  RR 13 O2 98% on RA
A bedside ultrasound is performed, what is the next best step in management?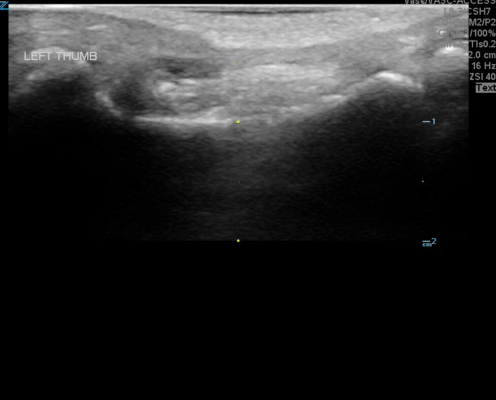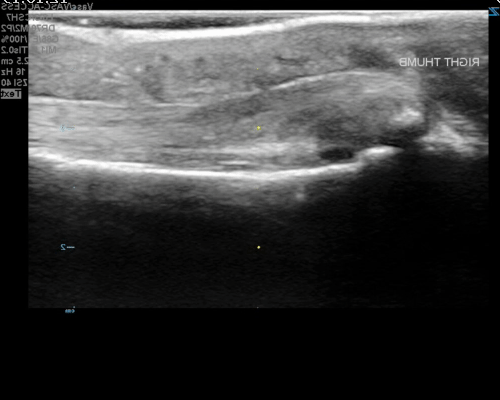 Answer and Learning Points
Answer
Empirical antibiotic therapy and orthopedic surgery consultation for infectious flexor tenosynovitis (FTS).  The patient meets 4 out of 4 Kanavel's signs and has ultrasound evidence of FTS suggested by a thickened tendon with surrounding anechoic fluid.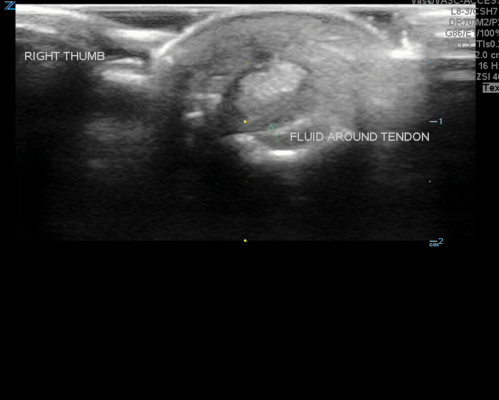 Learning Points
FTS is often a clinical diagnosis and examination (Kanavel's signs) is thought to have high sensitivity (91.4-97.1%) but low specificity (51.3-69.2%) for infectious FTS [2]; however a negative exam does not rule it out completely.

Kanavel's signs include:

Finger held in slight flexion
Fusiform swelling
Tenderness along the flexor tendon sheath
Pain with passive extension of the digit

FTS is treated with empirical antibiotic  therapy as well as early surgical debridement and drainage. Delays in diagnosis can lead to local spread of infection, compartment syndrome and necrosis.
While there is not high quality evidence describing the use of emergency department point of care ultrasound (POCUS) to diagnose FTS, previous radiographic studies have found ultrasound to be more sensitive than clinical exam for detecting tenosynovitis [3].
Common ultrasound findings for FTS include:

Hypoechoic or anechoic edema or debris within the tendon sheath
+/- thickening of the tendon sheath

The ultrasound examination should be performed using a linear probe, examining the affected tendon (and normal tendon on other hand for comparison), in both the longitudinal and transverse plane.

Small rocking or fanning motions should be used to ensure perpendicular orientation of the probe to the tendon to avoid artifact secondary to anisotropy.

As in all uses of POCUS in the emergency department setting, findings should be interpreted in conjunction with clinical examination and history when evaluating for infectious FTS. We believe POCUS for infectious FTS can be used to increase diagnostic certainty and even expedite care and aggressive treatment however a normal exam should not be used to rule out this diagnosis.
Author
This post was written by Michael Macias, MD, Ultrasound Fellow at UCSD.
References
Padrez, K., Bress, J., Johnson, B., & Nagdev, A. (2015). Bedside Ultrasound Identification of Infectious Flexor Tenosynovitis in the Emergency Department. Western Journal Of Emergency Medicine, 16(2), 260-262. doi:10.5811/westjem.2015.1.24474
Kennedy CD, e. (2017). Differentiation Between Pyogenic Flexor Tenosynovitis and Other Finger Infections. - PubMed - NCBI . Ncbi.nlm.nih.gov. Retrieved 21 October 2017, from https://www.ncbi.nlm.nih.gov/pubmed/28720000
Hmamouchi I, Bahiri R, Srifi N, et al. A comparison of ultrasound and clinical examination in the detection of flexor tenosynovitis in early arthritis. BMC Musculoskelet Disord. 2011;12(1):91.