A 52 year old male with presents with 4 days of painful swelling and redness to his middle right thigh. Physical exam shows a 3 cm area of erythema that is tender to touch. He denies fever and trauma to the area. A bedside ultrasound is performed as seen below. What is the next step in management?
Vitals: HR 82 BP 110/72 RR 14 O2 98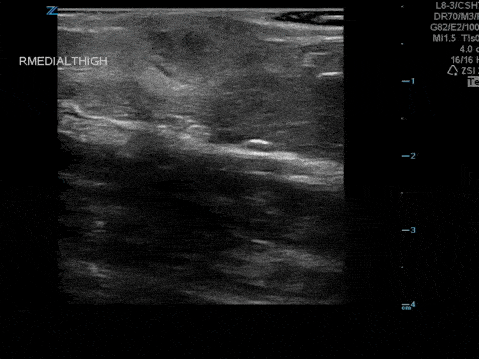 Answer and Learning Point
Answer
Incision and drainage. The image above demonstrates a well circumscribed fluid collection within the soft tissue,  without evidence of surrounding cellulitis. The above abscess was incised with immediate release of a large volume of purulent material. The patient did well.
Learning Point
Ultrasound is an excellent adjunct to the physical exam in the evaluation of soft tissue infections. It improves accuracy in the diagnosis of superficial abscesses and has been shown to change management in up to 50% of emergency department cases of clinical cellulitis [1,2].
The ultrasound image above is atypical for an abscess given the iso-echoic texture appreciated in the fluid and is easily missed if the operator is not aware of this unusual finding. Most abscesses will appear as a hypoechoic fluid collection, however occasionally they may have increased internal echoes which can lead to false negative ultrasound results.
This can be avoided by applying gentle pressure to the area of the suspected cellulitis/abscess to evaluate for the "swirl sign" which is indicative of fluid movement within the abscess cavity [Figures 1&2].
This can be distinguished from the common pattern appreciated in cellulitis known as "cobblestoning" which indicates increased subcutaneous fluid.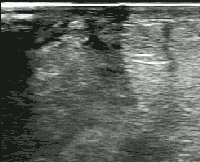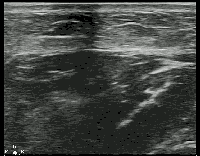 References
 Tayal VS, e. (2017). The effect of soft-tissue ultrasound on the management of cellulitis in the emergency department.
Squire BT, e. (2017). ABSCESS: applied bedside sonography for convenient evaluation of superficial soft tissue infections.