A 43 year old female with no past medical history presents to the Emergency Department (ED) with lower abdominal pain for the last three hours. She says she knows she is pregnant from a home pregnancy test, but has not had any appointment with obstetrics and has not had an ultrasound yet. She denies any vaginal bleeding.
Vitals: BP 120/65 mmHg, HR 85, O2 100% on RA.
She is comfortable appearing, her abdominal exam shows mild tenderness to palpation diffusely in the lower abdomen with no rebound and her pelvic exam shows a closed os with no bleeding.
Her point-of-care urine pregnancy test is positive.
You perform a trans-abdominal bedside ultrasound, what do you see? What are your next steps?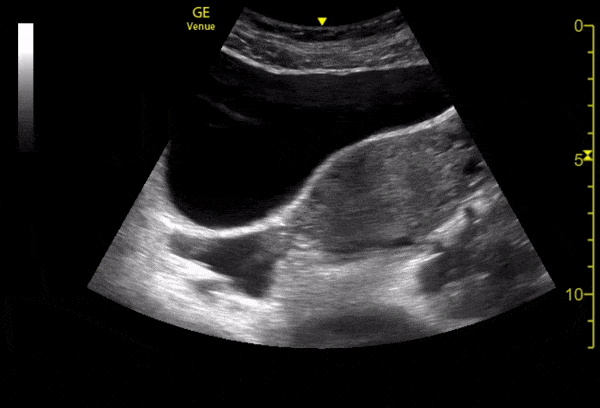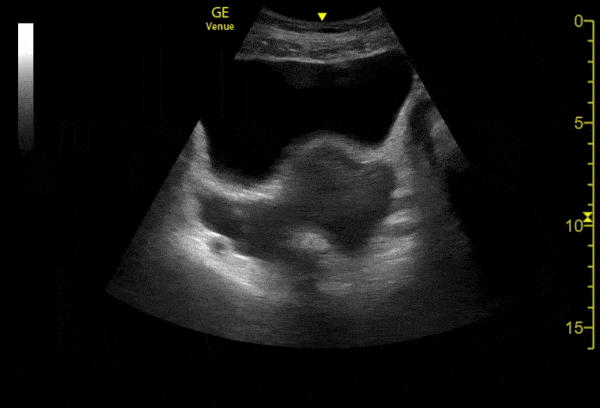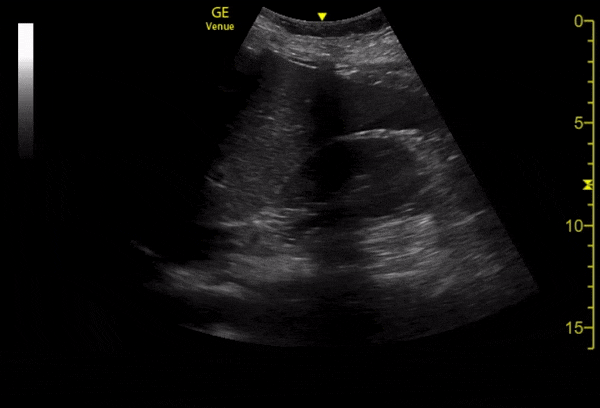 Answer and Learning Points
Answer:
The first image is a transverse view of the uterus that shows free fluid in the retcouterine pouch (Pouch of Douglas). The second image is another transverse view of the uterus that also shows free fluid in the rectouterine pouch and then fans through to scan the uterus and adnexa. From what we see there is no gestational sac in the uterus and if you look closely there appears to be a heterogenous structure in the left adnexa. The final view is a FAST view in the right upper quadrant, looking at Morrison's Pouch. We see free fluid here as well. 
These findings - a positive pregnancy test, free fluid in the pelvis and no clear intra-uterine pregnancy indicates an ectopic pregnacny until proven otherwise. The next step should be a tranvaginal ultrasound and consultation with Gynecology. 
Conclusion and Learning Points:
The transvaginal ultrasound revealed a left-sided ectopic pregnancy, as seen in the following picture. They identified a fetal pole and even a fetal heart rate in the ectopic pregnancy. The patient was taken to the operating room with Gynecology and had a salpingectomy without complications. She was discharged home three days later.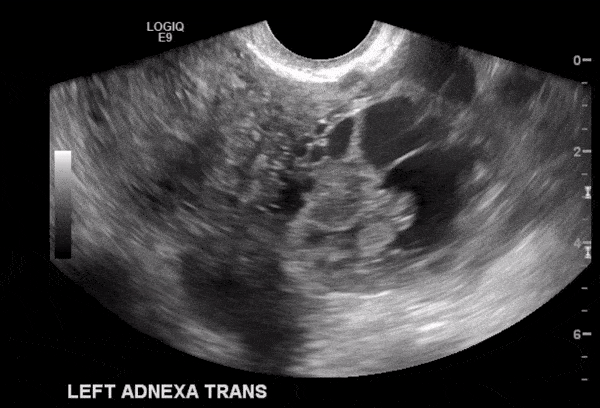 Learning Points:
Any female of child-bearing age with abdominal pain should be considered for ectopic pregnancy
Ultrasound findings in ectopic pregnancy will not always show the ectopic itself, but rather findings suggestive of ectopic:

Intra-abdominal free fluid
No clear intra-uterine pregnancy (patients with ectopic will sometimes still have a "pseudo-gestational sac" that appears similar to a gestational sac, but there will be no yolk sac or fetal pole)
Heterogenous adnexal structure

You should not wait for B-HCG measurements to consider ectopic pregnancy, case reports have shown ectopic pregnancies with minimal HCG levels can still rupture (1)
References
1. Fu, Joyce, et al. Rupture of ectopic pregnancy with minimally detectable beta-human chorionic gonadotropin levels: a report of 2 cases. J Reprod Med. 2007 Jun;52(6):541-2.
This post was written by Charles Murchison MD and Anthony Medak MD, with further editing by Amir Aminlari MD.