A 37-year-old female presented to the emergency room with severe, radiating bilateral flank pain lasting one week. Pain was constant and pressure-like. Patient had a past medical history significant for constipation, ovarian cysts, diverticulitis, and a colonic polypectomy. She denied fever, vomiting, and denied melena and hematochezia. Patient had no dysuria, frequency or hematuria. She denied vaginal discharge or odor. Patient was seen and treated by her primary care provider with ciprofloxacin and metronidazole for presumed diverticulitis. When pain failed to improve two days later, patient presented to the Emergency Department.
Upon arrival, her vital signs were as follows:
T 98.2 | BP 109/73 | HR 71 | RR 16 | SPO2 99% on RA |
Her physical exam revealed left paraumbilical and left lower-quadrant tenderness. No masses were palpated. A bedside ultrasound of the abdomen is performed, and the following images were obtained. In examining these images, what do you notice and how would this change your patient management?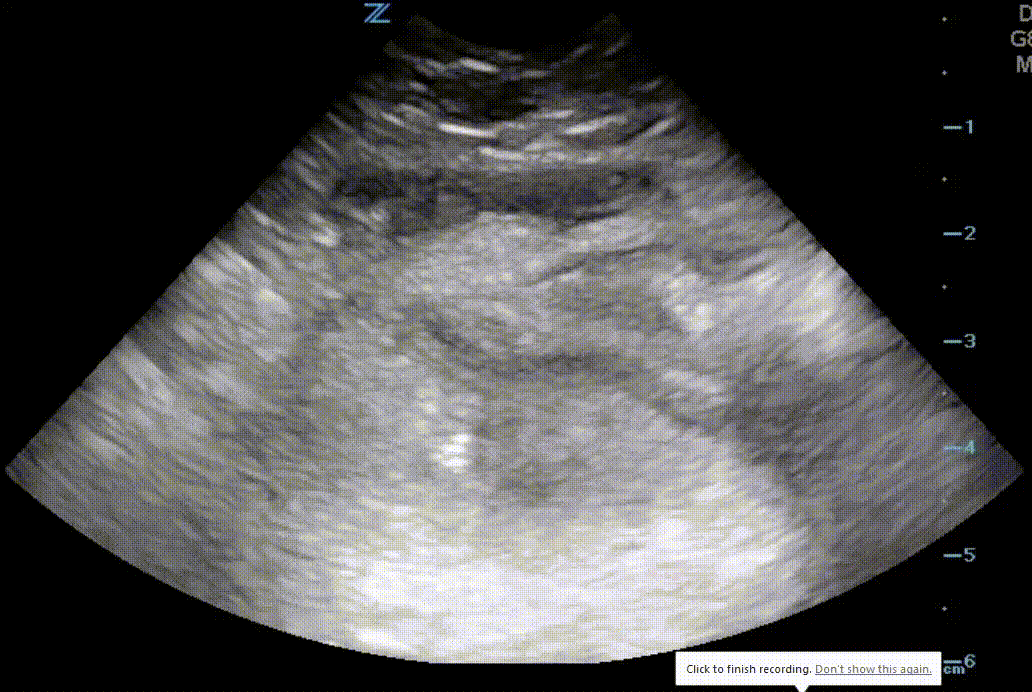 Answer and Learning Points
Answer: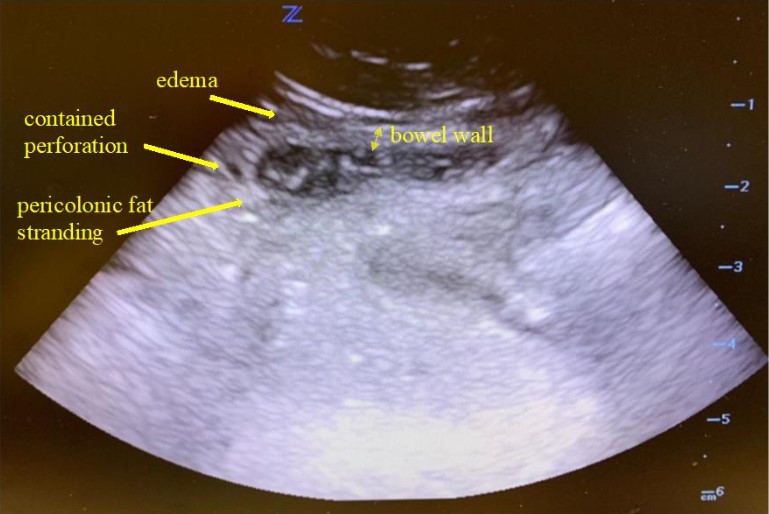 In these images/videos, a thickened bowel wall is observed in the distal descending colon and proximal sigmoid. Extensive pericolonic fat stranding is represented by the hyperechoic fat deep to the bowel, with no drainable abscess found.
In the emergency setting, computed tomography (CT) scans are highly accurate and remain the most widely used modality to diagnose diverticulitis, with an overall accuracy of 99% [1]. CT can assist in planning if surgical intervention is needed. An estimated 15-20% of all patients admitted with either complicated or uncomplicated diverticulitis will require surgical intervention during their initial admission, yet that likelihood increases to upwards of 50% for those with complicated diverticulitis [2]. However, concerns of radiation exposure and extended length of stays have led to increased use of point-of-care ultrasound (POCUS) [3].
Cohen et al found that POCUS performed by ultrasonographic-trained emergency physicians, physician assistants, and ultrasonographic fellows had both high sensitivity (92%) and specificity (97%) for diagnosing acute diverticulitis [3]. However, the usage of POCUS for diverticulitis by EM physicians is a new application and not a current widespread practice.
There are 3 POCUS indicators of acute diverticulitis, namely:
1) Thickened bowel wall greater than 5mm surrounding an adjacent diverticulum
2) enhancement of surrounding pericolonic fat
3) sonographic tenderness to palpation [3]
To perform this technique, place the curvilinear probe on the patient in the areas of tenderness and compress the bowel wall. The bowel will be found just deep to the peritoneal line. In diverticulitis, the bowel will appear with a thickened wall >4 mm with a visible diverticulum.
Surrounding hypoechoic edema is often visible. Perforation may appear contiguously to the diverticulitis. Normal bowel will compress fully with the ultrasound probe.
CT Image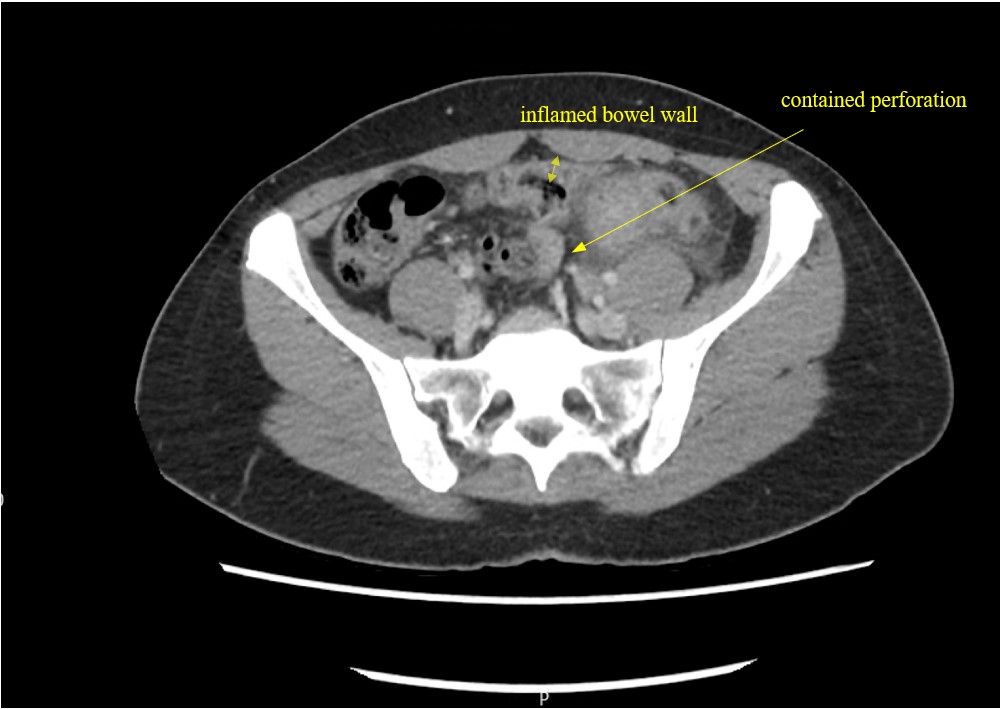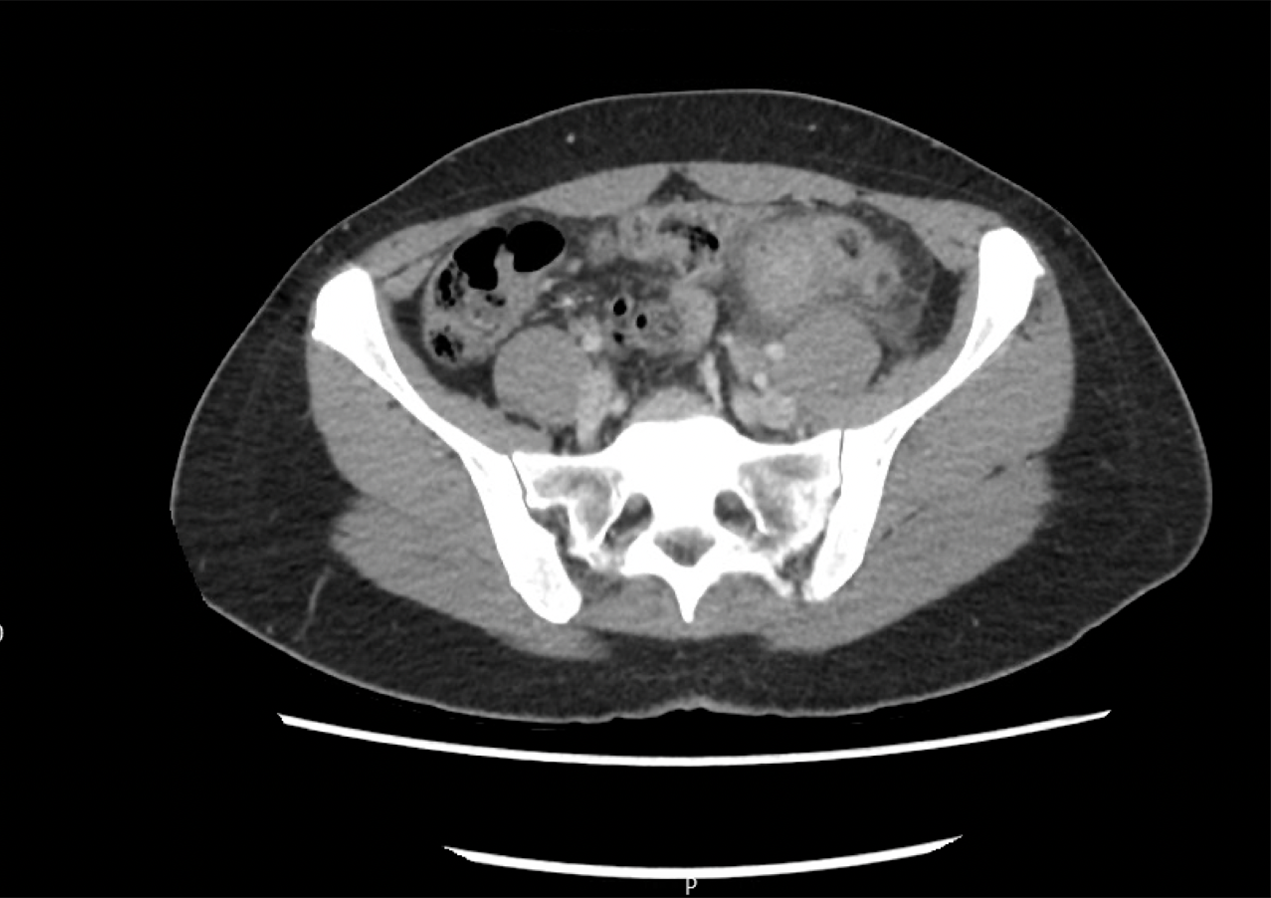 This patient received a CT that confirmed acute flare of diverticulitis with contained perforation involving a short segment in the distal descending colon and proximal sigmoid, with no drainable abscess at this time. She was admitted to medicine with GI and surgery consults following.
References
1) Sai, V. F., Velayos, F., Neuhaus, J., & Westphalen, A. C. (2012). Colonoscopy after CT diagnosis of diverticulitis to exclude colon cancer: a systematic literature review. Radiology, 263(2), 383–390. https://doi.org/10.1148/radiol.12111869
2) Wieghard N, Geltzeiler CB, Tsikitis VL. Trends in the surgical management of diverticulitis. Ann Gastroenterol. 2015;28(1):25-30.
3) Cohen, A., Li, T., Stankard, B., & Nelson, M. (2020). A Prospective Evaluation of Point-of-Care Ultrasonographic Diagnosis of Diverticulitis in the Emergency Department. Annals of emergency medicine, 76(6), 757–766. https://doi.org/10.1016/j.annemergmed.2020.05.017
This post was written by Cameron Olandt and Colleen Campbell MD RDMS.