A 35 year old male with a history of IV drug use and HIV on ART presents to the emergency department with pain and redness of his left upper extremity for a few days. He denies systemic symptoms or prior history of abscess.
Vitals: Temp 98.5, HR 93, BP 122/75, RR20
Physical Exam: Notable for a large, well circumscribed area of induration, erythema, warmth, and tenderness on the left upper arm. Distal to the lesion, there is intact cap refill and 2+ radial pulse.
A bedside ultrasound was performed. What do you see?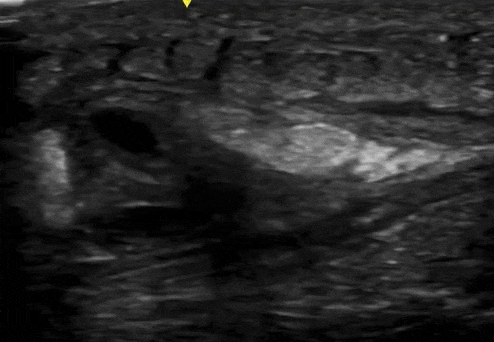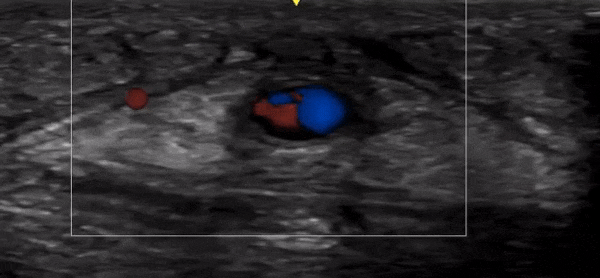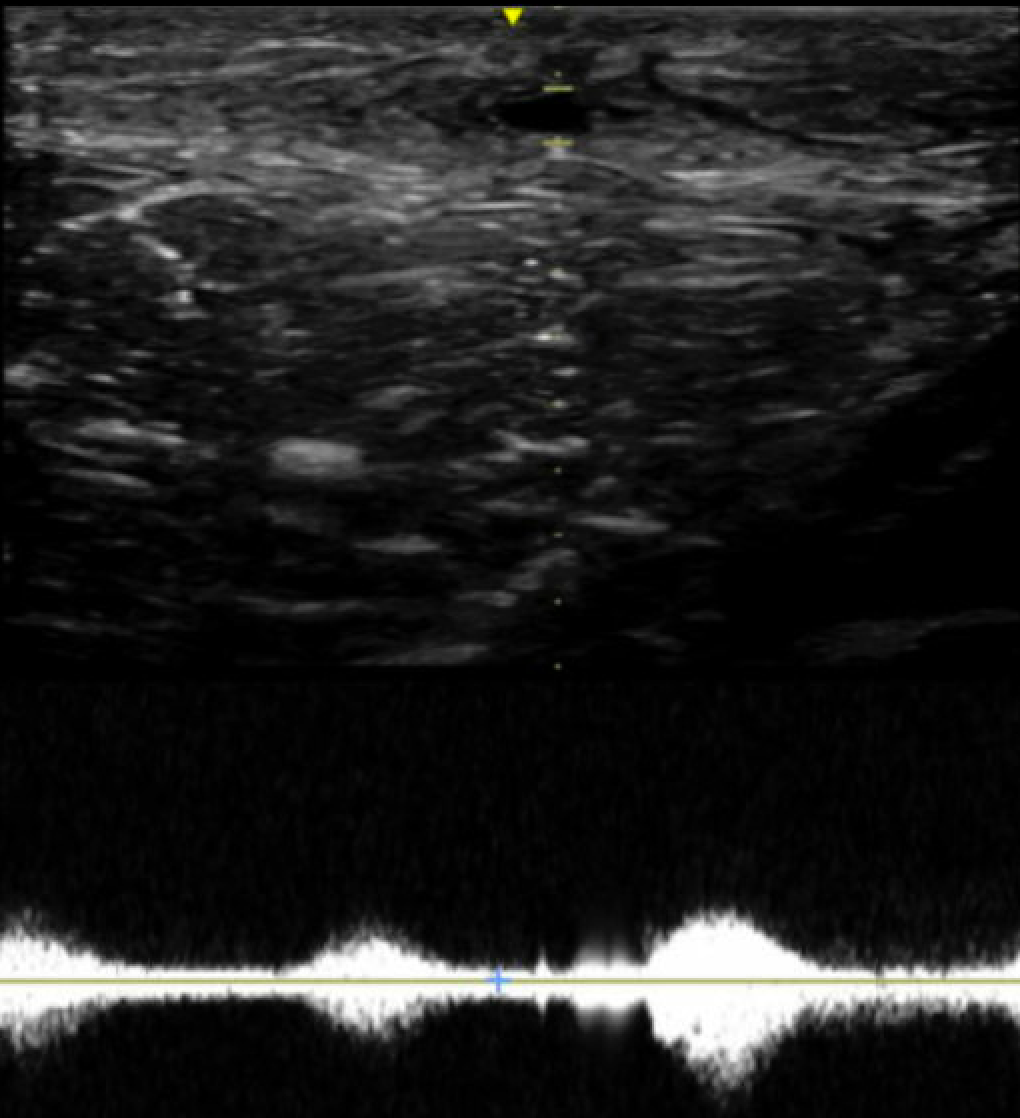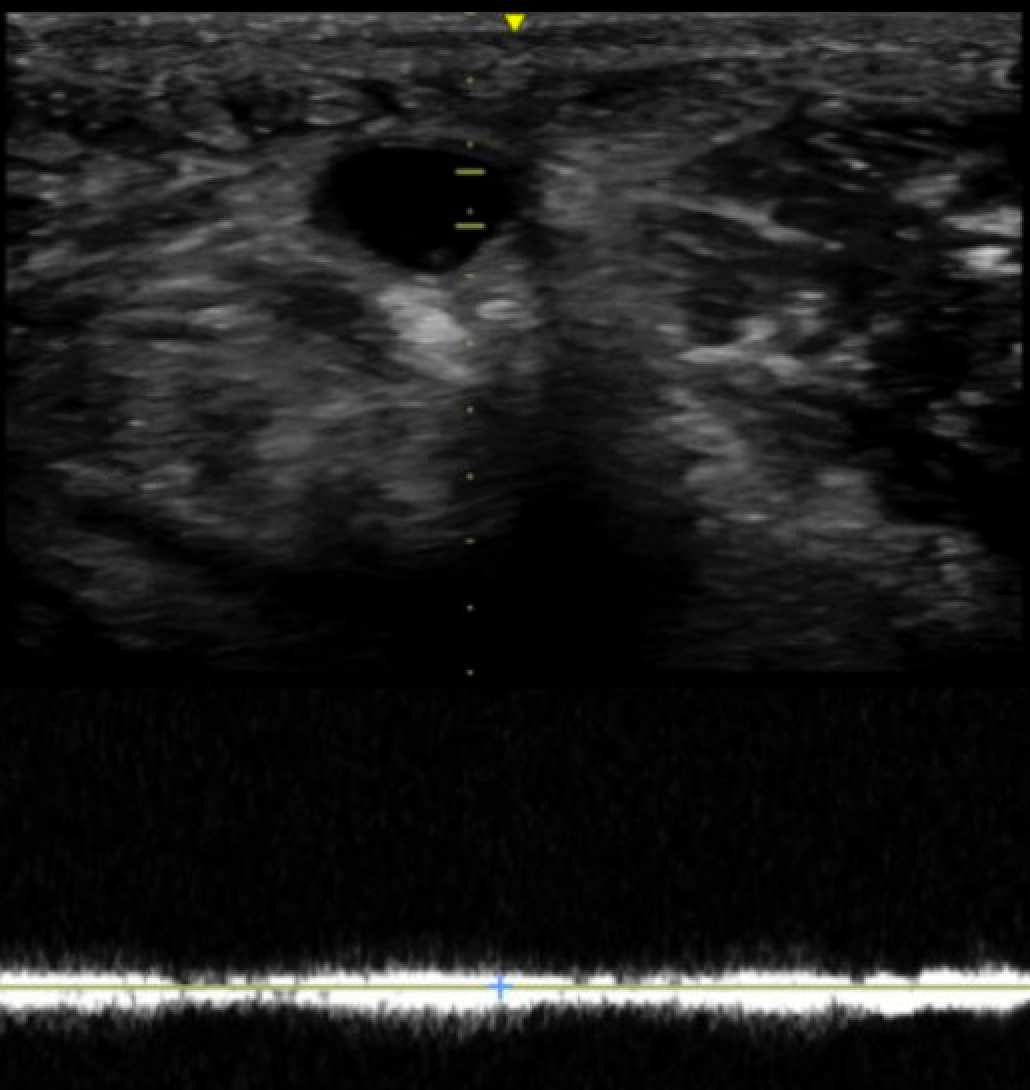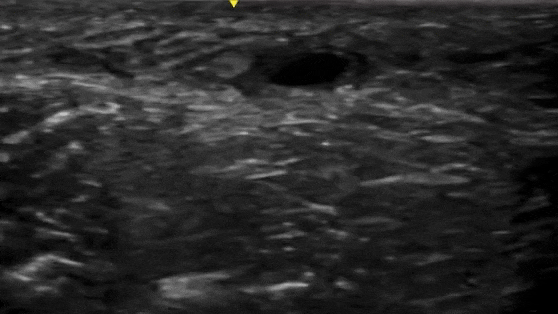 Answer and Learning Points
Answer:
Image 1 is a transverse view of the LUE and demonstrates cobblestoning in the subcutaneous tissue which is suggestive of cellulitis. There is no fluid tracking on the fascial planes, fascial thickening, hyperechoic gas or dirty shadowing to suggest necrotizing fasciitis.
Image 1 also demonstrates a well-circumscribed, anechoic fluid collection concerning for an abscess. However, the lumen-like and well-demarcated appearance deep to the area of cobblestoning also suggests a blood vessel, and so we imaged it with color and pulse-wave doppler.
Image 2 use color doppler and demonstrates turbulent flow within the fluid collection. Superficial and medial to the fluid collection, a vessel can be appreciated with flow towards the ultrasound probe.
Image 3 and 4 use pulse wave doppler and demonstrate areas of both pulsatile and continuous flow in various parts of this structure.
Image 5 demonstrates continuity between a distal pulsatile vessel and the proximal fluid collection. The fluid collection likely represents an arterial aneurysm or arteriovenous fistula, as opposed to an abscess. Taking into consideration the patients history of IV drug use, trauma from repeated injections may have created abnormal structures within the patient's vasculature.
Conclusion and Learning Points:
1. When there is concern for cellulitis, POCUS is a useful tool to quickly evaluate for drainable fluid collections, as well as to evaluate for necrotizing fasciitis.
2. When evaluating a possible abscess, it is important to confirm that the collection has no pusatility or flow before attempting drainage.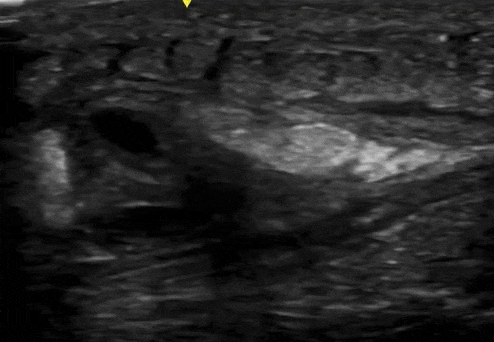 References
1. Bystritsky R, Chambers H. Cellulitis and Soft Tissue Infections. Ann Intern Med. 2018 Feb 6;168(3):ITC17-ITC32. doi: 10.7326/AITC201802060. Erratum in: Ann Intern Med. 2020 May 19;172(10):708. PMID: 29404597.
2. Paz Maya S, Dualde Beltrán D, Lemercier P, Leiva-Salinas C. Necrotizing fasciitis: an urgent diagnosis. Skeletal Radiol. 2014 May;43(5):577-89. doi: 10.1007/s00256-013-1813-2. Epub 2014 Jan 29. PMID: 24469151.

This post was written by Jeff Hendel, MS4 and Ben Liotta, MD, with further editing by Sukh Singh, MD.